Roger Kiely (principal of Cullen National School 1938-1961) is the central figure on the cover of a new book from UCC entitled the "Atlas of the Irish Revolution", but for some reason best known to the editors they did not have the courtesy to identify him. He was an intelligence officer with the Millstreet Battalion.
They might have included the description of him by the artist Sean Keating: "Roger Kiely was about the best and finest man I ever knew.  A few years ago I went to look for him in County Cork. I found him a poor school-teacher in a poor little school near Kanturk. I asked him about the others and found that death, poverty and America had claimed them – the Unknown Soldiers."  (BMH Witness Statement 505). – Jack Lane
============================
Roger's father John Kiely was a native of Feenagh, Co. Limerick, and taught in Cullen School. He married a local girl, Elizabeth O' Keeffe in 1884 and they lived in Mullaghroe [4]. Roger was born on June 4th 1896 at Molloghroe, one of eleven children [1][2]. He married another teacher, Hanoria Buckley of Rathduane in 1922 [3]. Roger later became a teacher and was a principal of the Boys School in Cullen from 1938 to 1961 (his wife was the girls principal from 1938-1960). He had a great interest in the Irish Language and in Irish music and formed a school band. He was a member of Sean Moylan's famous Flying Column. He founded a fife and drum band in Cullen. He also edited and got the poems of Dónal Ó Conchúr published. He passed away on April 9th 1967 at Lislehane, Cullen. He was Dermie Kiely's father [1].
There were some nice stories on Roger on the Cullen National School website.
====================
The picture is a part of a large painting, the famous 'The Men of the South' – by Sean Keating, which hangs in the Crawford Art Gallery in Cork.
Presented as a heroic frieze with strong nationalist themes, this painting depicts a 'Flying Column' of the Irish Republican Army poised in readiness for action. Set within the Irish landscape and based on the artist's own sketches and photographs of several members of the North Cork Brigade, it is symbolic of courage, heroism, and the long wait for Irish independence. The landscape expresses subtle hints of the Irish tricolour as a nationalist backdrop to the assembled male group. United in purpose and direction, the men look towards the evergreen bay laurel, symbol of victory.
The artist Seán Keating invited his friend Seán Moylan (1888-1957), leader of the North Cork Brigade, and his men to sit for this group portrait in late 1921. This was a period of ceasefire in the Irish War of Independence during which the Anglo-Irish Treaty was being negotiated and out of which the Irish Free State was born. Some of the tension of the time can be sensed in both the atmosphere of the painting and the circumstances surrounding its creation. Arriving at the Dublin Metropolitan School of Art where Keating's studio was located, the group frightened the porter who had not been expecting their visit and who suspected that either he or the artist were in danger. Keating, however, immediately took quick studies of the men and used his time with them fruitfully over the following two weeks. Although recognisable, the six men in the painting – Jim Riordan, John Jones, James Cashman, Denis (Denny) O'Mullane, Roger Kiely, and Dan Brown – are depicted as being older than their years at the time. Notably, Moylan does not feature in the painting as he was a wanted man at the time.
Men of the South was well-received when it was first shown at the Munster Arts Club Exhibition (1922) in Cork. Given its importance, the painting was subsequently purchased from the artist for £200 in 1925 by the Crawford Art Gallery's Gibson Bequest Committee. [ref: The Crawford Art Gallery]
Keating actually made two versions of the painting. The above painting (which was painted second) hangs in the Crawford Art Gallery in Cork, and the below version hangs in the Hugh Lane Gallery previously hung in the Hugh Lane Gallery, but now hangs in Áras an Uachtaráin: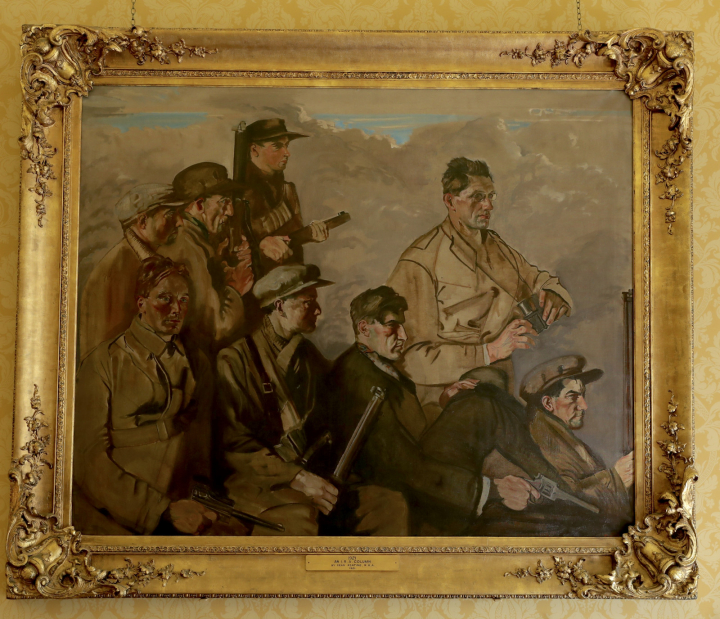 ==================
History Ireland: Men of the South Revisited
There is a nice audio on RTÉ here on Keating and his paintings: here.
Below is an excellent description of how the painting came about, by Dr. Éimear O'Connor:
"Sean Keating was born in Limerick in 1889, he died in Dublin in 1977. He became known as one of Ireland's best political painters, among other things. He arrived in Dublin in 1911 to the Dublin Metropolitan School or Art where he trained under William Orpen, among others. It's important to remember that the Dublin Metropolitan School or Art was a hive of political activity. The two Pearse brothers were there – Willie and Pádraig. Willie was teaching Irish, Countess Markievicz was there and everybody was really heading towards 1916.
Keating became very well known for a series of political paintings, the first or which was painted in 1915 and shown in 1917, it's called Men of the West and it's in the Hugh Lane Gallery and he finished that series of political paintings with an allegory which he painted in 1924, and that's the painting at which he moves away from violent separatist nationalism, but up until that point, like many in the school of art, he adhered to the notion of violence and separatist nationalism.
One of his very good friends was Sean Moylan, and Sean Moylan headed up one of the secret Flying Columns, and it was while doing Sean Moylan's potrait in 1922 when Keating said to him that he's like to paint one of the columns, which was a very unusual thing to do because these guys were working in secret and they trained in secret, so it was organised by Keating and Moylan, and nobody knew about it.
And there came a time in 1922 when there was a knock on the school of art door, and the school was empty because classes were not running because there were bombs in Dublin etc, and so there was a hollow knock on the door and the porter opened the door, and there was a gang of men outside with Cork accents and big guns and they said, "we want to see Keating!", and the porter ran up the stairs and he said to Keating "I think you're going to be shot", and Keating said, "No no no, let them up".
Now what happened then was a series of very famous paintings called Men of the South Version One, and Men of the South Version 2. Both sets of paintings were done from a series of photographs, and it's important to remember that they were done from photographs, because the guys were in Dublin and they had to get out quick. The photographs were taken, and they probably went back down to Cork on the train.
Version One showed Jim Riordan, Denis Mullane, Jim Cashman, Seán Moylan. Mick Sullivan. John Jones, Roger Kiely and Dan Brown.
A number of months later, Keating decided to do Version Two of the painting. Version One by the way is owned by the Government and is in Government Buildings. Version Two, for the purpose of political expediency, Seán Moylan was removed, so was Mick Sullivan, because they were becoming very well known, and it was a danger therefore for them to be seen in the painting, so Version Two which is in the Crawford Gallery in Cork shows Jim Riordan, John Jones, James Cashman (standing in place of Moylan), Denis Mullane, Roger Kiely, and Dan Brown. Interestingly Keating first showed this painting in the Munster Art Exhibition in 1922, just at the succession of the War of Independence.
(update 2019: Éimear has updated this to say that they were actually painted the other way around … see her comment below)
In 1924, Keating applied to the Department of Education and the School of Art, for time off to paint a series of History Paintings. He was horrified by the violence of the Civil War, that we can't even imagine now, and the Department of Education turned his request down, saying " The sooner we forget all these things, the better". And what did he do? Well he had to stay in the school of art, and he went on and painted a whole series of different types of paintings. They weren't political paintings, but different types of paintings that told a story of Ireland, but that is another story."
================
Atlas of the Irish Revolution won the  'best Irish published book of the year' at the Bord Gáis Energy Irish Book Awards 2017. http://bit.ly/2ik0Mv2 [1]
===================
=======
Descendants of men in the painting invited to Áran an Uachtráin – President Michael D. Higgins and his wife Sabina received family descendants of the men portrayed in the painting '1921 – An IRA Column' – on Tuesday 2nd Apr, 2019 at Áras an Uachtaráin (Dublin) . Roger's son Der Kiely was there on the day. [full gallery]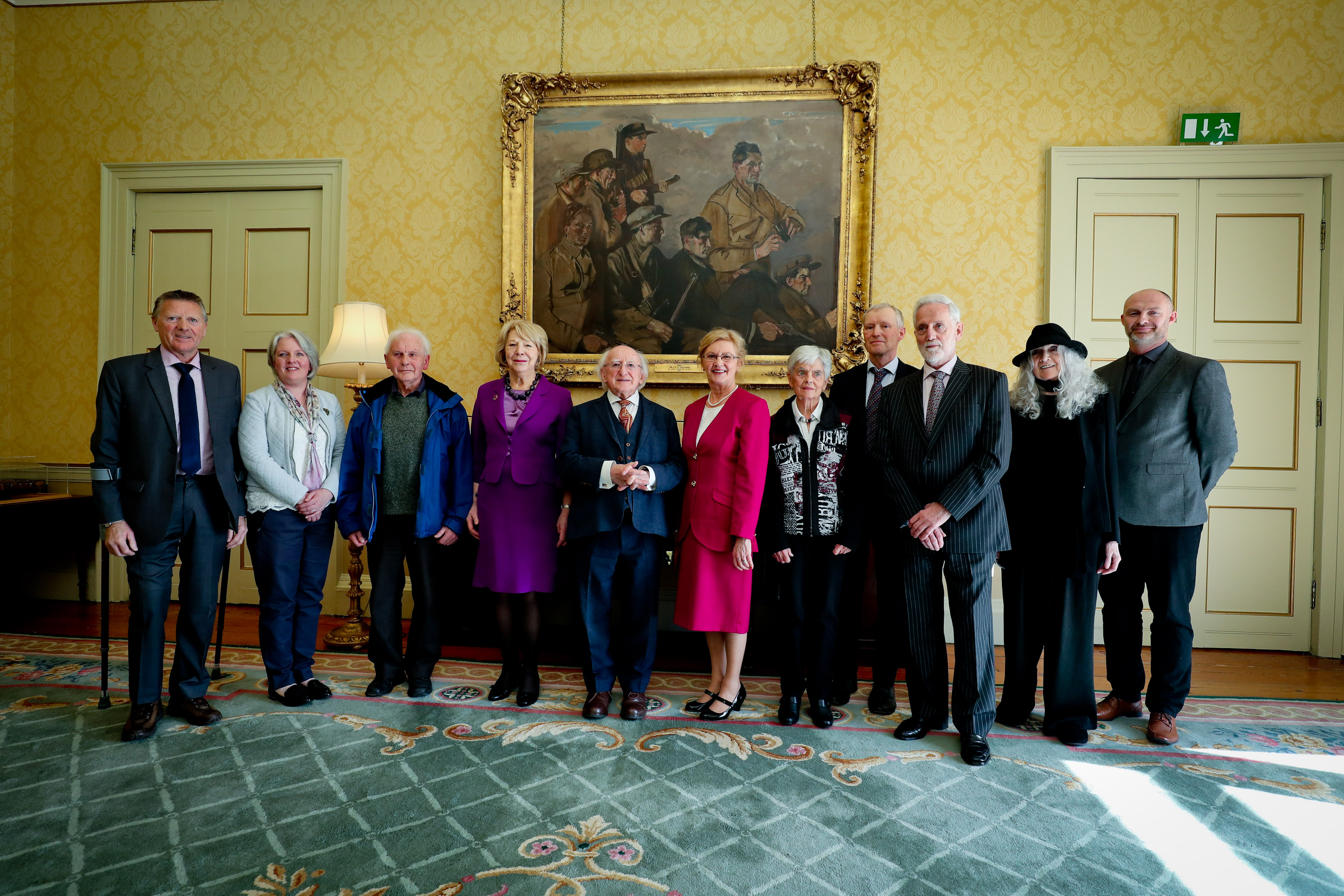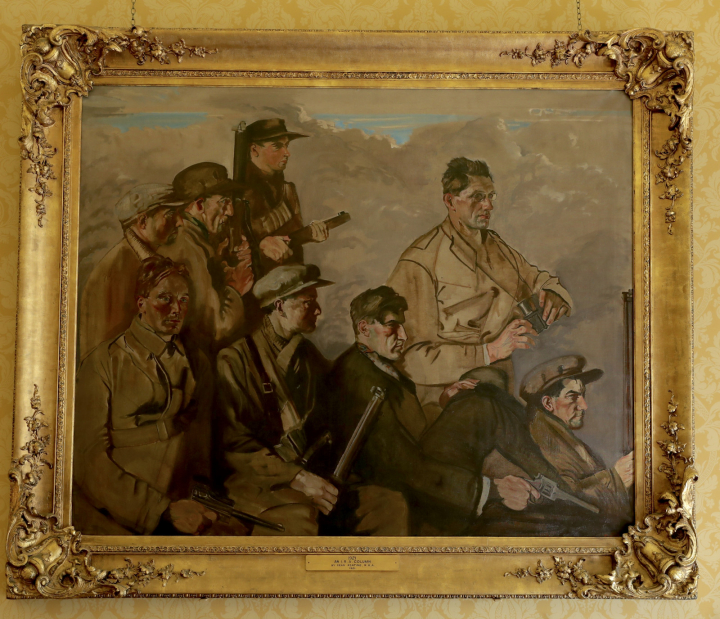 =====
More:
Men of the South: The incredible tale behind the classic image from the War of Independence (February 2020)
=======
Refs:
[1] 1911 census
[2] 1901 census
[3] Marriage of Roger Kiely and Hanoria Buckley, 19th September 1922
[4] Marriage of John Kiely and Lizzie O'Keeffe, 9th September 1884
=====
Lislehane School 1950's – Roger Kiely's and his students [1] [2]