Lieut. Wm. F. MacCARTHY O'LEARY, Royal Munster Fusiliers.
Killed in action in France on September 7th, 1916. Aged 22.
In "Billy" MacCarthy O'Leary we have lost one who was so recently amongst us that many boys still at the College remember well the tall form and good-humoured face of one who was a general favourite with his school-fellows. The notice from The Times for September 9th, which we print below, briefly summarises his career :-
"Lieut. William Felix MacCarthy O'Leary, Royal Munster Fusiliers, killed on September 7th, 1916, aged 22, was the son o f the late Lieut. Col. W. MacCarthy O'Leary and Mrs. O'Leary, of Coomlagane House, Millstreet, Co. Cork. His father was killed in action while commanding the 1st Bn. The South Lancashire Regt. at Pieter's Hill, Natal, on February 27th, 1900. He was educated at Stonyhurst College, Lancashire, and when war broke out was at the Royal Military College, Sandhurst, whence he was gazetted to the Royal Munster Fusiliers. He was with his battalion at the Dardanelles, and was wounded in the attack on June 28th, 1915. He rejoined his regiment in August, but was sent down to Alexandria with enteric (typhoid), and after some months' illness was invalided home last December. He rejoined his regiment at the front in July. His two elder brothers are serving in the South Lancashire Regt. and the Royal Irish Fusiliers."
In a letter to Mrs. MacCarthy O'Leary acquainting her with her son's death, the Colonel of the regiment wrote :—
I had the privilege of knowing your gallant husband some years ago, and had he lived he would have had reason to be proud of his son. He is a great loss to the battalion. He was buried at night behind the trenches. We all liked your boy so much and thought so highly of him.
In a subsequent letter the same writer supplied these further details :—
Your boy was killed about 4 p.m. on the 6th September by a sniper. He heard one of the men shout and stood up to look over the trench. The bullet passed through his neck, severing both jugular veins, and he was killed on the spot and suffered no pain. He was not disfigured in any way. He had attended Mass and Holy Communion on the morning of September 3rd.
The date mentioned was the eve of an attack of which "Billy" wrote to a cousin :—
I am going out to a show to-night in which I have rather a poor chance of coming through. God is good, and His will be done. I hope to be spared ; but it is a nerve-trying raid. It 's either a knock or honour.
He had survived this attack only two days. Previous to his service in France, Lieut.
MacCarthy O'Leary had been actively engaged with his battalion in the Dardanelles, and was wounded at Gallipoli. As an officer his qualities were highly rated by his brother officers and men. "Everyone liked him, for he was always gentle and kind," said one who knew him well.
He was genuinely attached to Stonyhurst, and interested in the doings of his old schoolfellows, whom he mentioned in his letters to the College written from the front. In a letter, dated 31st July 1916, he says :-
.. We go into the trenches again for the reserve line tomorrow. "Jelly" McElligott is here also and in command of a company. It was quite close to this place that Dick Gethin was killed last September. I met Nolan (M. H. Nolan) in the Royal Irish Regiment, at the base before I came up here. Who should I run across yesterday but Kenneth Ryan ! (Lieut. Royal Irish Fusiliers). I met his eldest brother at the Dardanelles, and also his brother Charlie in Dublin some months ago. It is boiling hot and should be good for cricket at Stonyhurst. I am writing this in a dugout, rather the worse for rats."
His two elder brothers— Lieut.-Col. H. W'. D. MacCarthy O 'Leary, D.S.O., M.C., Royal Irish Fusiliers, and the late Lieut.-Col. John MacCarthy O'Leary, South Lancashire Regt., who both served at the front were old Stonyhurst boys, and his father and uncles were also educated there.
An officer in Lieut. MacCarthy O'Leary 's regiment gave us this further information of his last fight at Guillemont, in France :-
We had a most exciting night and were very pleased when day broke. We inflicted very heavy losses on the enemy with our Lewis gun, almost wiping out his ration party as it came over a railway embankment, and catching other parties as they moved about. We could see them "standing to," and naturally we expected the attack at any moment. Lieut. MacCarthy O'Leary and I were side by side all the morning. I lost four men up to about nine o 'clock— all sniped. We decided to have something to eat, so I put my waterproof sheet on the bottom of the trench and we sat down back to back. We made a very poor meal as we were short of water and had no chance of getting any. Then we changed places. There was a fall in the trench, and I being heavier made things uncomfortable for "Billy ." This change of position put me on the right. While we were talking word was sent on to me that the enemy was advancing. We two sprang to our feet, and "Billy" seized a rifle which he had placed on the parapet to judge his firing position. We remained side by side and kept up conversation. I saw him place his rifle in position and take aim. He lifted his head and turned to me, as if to say something, when a sniper's bullet struck him an inch under his left ear, penetrated his throat, and came out about the same place under his right ear. He dropped immediately. His death took place on September 7th, at about 9.45 a.m. It will be a consolation to his mother to know that he was well prepared to meet his God. He was with me at Holy Communion on the Sunday before he went to the line. He was one of the best and most popular officers we had and his death is regretted by all who knew him.
– from the Stoneyhurst Magazine and the Stoneyhurst College Roll of Honour.
=======
Irish Life and Lore have a wonderful audio where in a letter to his cousin South Lancashire Regiment Captain John McCarthy O'Leary of Millstreet, William describes some of the horror of the trenches. The letter is read by John's daughter Lady Elizabeth O'Connell of Lakeview House, Killarney (pictured right).
Listen here:
This is the letter transcribed:
My dear Tully,
Thank you so much for forwarding me the knife and fork and spoon etc. Rather unearthly hour to be writing. I've just come off fatigues where I was up till 9:30. I wouldn't write this now but I can't sleep oweing to the rats. They really put the wind up me. They were rushing about and squealing. Two lads are in the upper bearth already, and tired as I am, I dare not face the perils of overground, with them crawling all over me. It takes a lot to frighten them, and they're the biggest devils I've ever seen in the shape of rats. As I write they are wrestling and squawking both above and below me in the dugout, and I can hear them above me on the woodwork overhead, one is knawing the woodwork, and the stink from them is distinctly noxious. I hold them in absolute horror. Two of them have started to scrap now, and are squawking like blazes ___some. I am so tired and sleepy but will wait to sleep until the night comes and they retire. I haven't heard from Bath (?) so can't tell much as not much to tell.
Your loving cousin,
William McCarthy O'Leary
The full audio story of the MacCarthy-O'Leary family of Coomlogane, Millstreet, Co. Cork, as related by Elizabeth Lady O'Connell (nee MacCarthy-O'Leary, granddaughter of Lieut. Col. William MacCarthy- O'Leary) can be accessed in Jane O'Keeffe's book "Voices from the Great Houses of Cork and Kerry, Isbn 978 178117 131 8" published by Mercier Press in April 2013. [ref]

=========
=========
====
W. F. MacCarthy-O'Leary
William was born at Coomlagane, Co. Cork, the family seat, on 9th April 1894, the youngest of the five children of Lieutenant Colonel William and Mary MacCarthy O'Leary.
He was educated by the Jesuits at Stonyhurst College from 1905 and then went to the Royal Military College, Sandhurst (as a gentleman cadet).
Gazetted to the Royal Munster Fusiliers on 15th August 1914, he went out to the Dardanelles in April 1915, and served in the Gallipoli campaign.
He was wounded in an attack on the Turkish positions on 28th June and was not able to re-join his regiment until August. He was then hospitalised in Alexandria suffering from severe enteric and invalided home in December 1915.
He went to France and rejoined his Battalion in July 1916.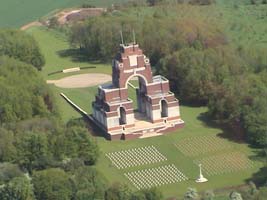 Killed in action in France, September 7th, 1916, near Ginchy, the day after the Battle of Guillemont, fifth of the Battles of the Somme, 1916. Aged 22. He was one of 572 British Soldiers that died on that day: Thu 07/09/1916.
He is commemorated at the Thierpval Memorial, but his final resting place is unknown.
He was most likely the last of the MacCarthy O'Learys born in Coomlogane.
=====
We have a very detailed article on his father Lieutenant-Colonel William MacCarthy O'Leary who was killed in the Boer War.
William had two other brothers in World War I, who we will cover in future articles:
Heffernan William Donagh MacCARTHY O'LEARY, b 1885; Brigadier; D.S.O. and bar, M.C, Order of the Couronne of Belgium, Belgian War Cross 4th class; The Royal Irish Fusiliers (1880-1920); Commander 158th (Royal Welsh) Infantry Brigade, 1933-7; later of Brumona, Rushbrooke, Co.Cork; died unmarried 1948
John MacCarthy O'Leary, b. 30th June 1881; Majr 1st. Bn. South Lancashire Regiment; d. 1923; married Rose Fogarty, daughter of William Fogarty, of Artaine [1901]; and they had Elizabeth MacCarthy O'Leary, b.June 6th 1923, married O'Connell in 1953 (pictured above)
He also had two sisters
Amy MacCarthy O'Leary, b. 13th Sept 1889, d. 12th Feb 1935- unmarried.
Mary Helen MacCarthy O'Leary, b. 27th Nov 1879, unmarried. [ref]
====
Links:
WW1- The Great War Remembering those who served
Irish Life and Lore – The Great War
Medal Card of W F MacCarthy O'Leary
William MacCarthy O'Leary and Family on Ancestry.co.uk
O'Connell Family Lineage – pages 7, 8, 9
Elizabeth McCarthy O'Leary (O'Connell) – peerage
====
=======