Best of luck to Chloé Collins (ladies), Shane Hickey (Under 20s), and  Darragh Cashman and Luke Murphy (Minors) who are representing Cork teams this weekend in their respective All-Ireland Championships:
TG4 All Ireland Senior Ladies Football Championship, Group 1 Round 3: 
Armagh 4-9 Cork 3-11
3:15pm Saturday 27th July, in Tullamore
You can still watch the match on SpórtTG4 YouTube
(despite the loss, Cork qualify for the quarter-finals as group winners)
EirGrid All-Ireland U20 Football Championship Semi-Final:
Cork 2-17 Tyrone 1-18
4pm Sunday 28 July, in Tullamore
Live online on TG4.ie
Electric Ireland All-Ireland Minor Football Championship Quarter-Final
Monaghan 2-10 Cork 3-19
6pm Sunday 28 July, in Tullamore
Live online on TG4 YouTube
There are lots of photos etc. from the three games below

========
Lovely point from wong back Darragh Cashman gives Cork a 0-3 to 0-2 lead. 11 mins

— Cork's RedFM Sport (@BigRedBench) July 28, 2019
Half time
— CullenJuvGaa (@cullenjuvgaa) July 28, 2019
Congrats Darragh and Luke … and Shane too of course! pic.twitter.com/Le0Hufwi5w

— Millstreet Juv Gaa (@Millstreet_Juv) July 28, 2019
This was the two lads playing for Cork three years ago!
Well done to the Luke Murphy + Darragh Cashman playing with Cork u14 footballers today @cullenjuvgaa @Millstreet_Juv pic.twitter.com/ZtA01ZsIMC

— Cullen GAA (@cullengaa) July 2, 2016
Cork starting Minor team for All-Ireland Q-Final pic.twitter.com/bzwn4BXGSu

— Cork GAA (@OfficialCorkGAA) July 28, 2019
Cork have beaten Monaghan in the @ElectricIreland All-Ireland MFC Quarter Final. Watch the Full-Time highlights here on GAANOW pic.twitter.com/oprNeyIS2W

— The GAA (@officialgaa) July 28, 2019
REPORT: @OfficialCorkGAA minor footballers power to impressive victory over @monaghangaa in Electric Ireland All-Ireland Quarter-Final.

— The GAA (@officialgaa) July 28, 2019
========
Well done @Shickey__ and all the Cork team. Great 2nd half comeback https://t.co/jsFybXNWXU

— Duarigle Gaels (@DuarigleGaels) July 28, 2019
Great win by Cork in Tullamore this evening over Tyrone. pic.twitter.com/DhSpIeZvN0

— Conor Hickey (@olandworld) July 28, 2019
========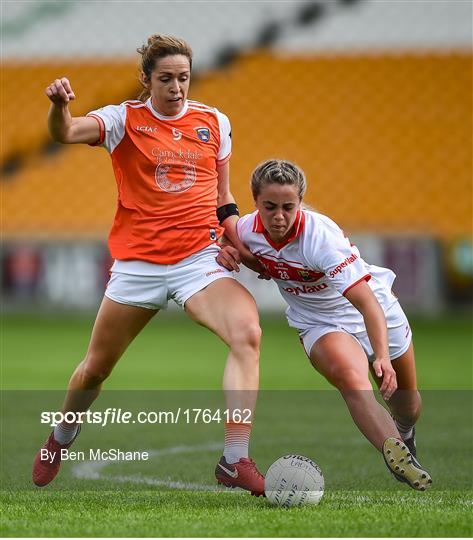 On the teamsheet at corner forward, Chloé played  as a defensive midfielder, stopping Armagh from running through the middle, and seemed to be making a good job of it, because Armagh ran riot after she was taken off at half time.
========
https://twitter.com/Jenn_Collins84/status/1155119960622063616
Best of luck to Darragh and the rest of the Cork Minor Football Team @OfficialCorkGAA in the All-Ireland Quarter Final vs @monaghangaa on Sunday.Go n-éirí go geal leat Darragh! pic.twitter.com/rxpYeaJyui

— Millstreet Community School (@MillstreetCS) July 26, 2019
The Cork Under 20 Football Team has been announced. https://t.co/4fYtfShT8J pic.twitter.com/e5XYjwI5Ff

— Cork GAA (@OfficialCorkGAA) July 26, 2019
Very best wishes to Darragh & the Cork team

— John Joe Dineen (@JohnJoeDineen2) July 26, 2019
========
The Cork Under 20 Team to play Tyrone in the All Ireland Semi Final has been announced.
1 Josh O' Keeffe  –  Newmarket
2 Michael Mahoney – Knocknagree
3 Maurice Shanley – Clonakilty
4 Paul Ring – Aghabullogue
5 Gearoid O' Donovan – Newcestown
6 Sean Meehan – Kiskeam
7 Peter O' Driscoll – Ilen Rovers (Captain)
8 Brian Hartnett – Douglas
9 Daniel O' Connell – Kanturk
10 Colm Barrett – St. Finbarrs
11 Blake Murphy – St. Vincents
12 Colm O' Callaghan – Eire Óg
13 Mark Cronin – Nemo Rangers
14 Cathail O'Mahony – Mitchelstown
15 Damien Gore – Kilmacabea
16 Ian Giltinan – Carrigaline
17 Jack McCarthy – Carrigaline
18 Jack Murphy – Eire Óg
19 Shane Hickey – Millstreet
20 Fionn Herlihy – Dohenys
21 Rory MaGuire – Castlehaven
22 Brian Hayes – St. Finbarrs
23 Mark Hodnett – Carbery Rangers
24 Gerry O' Sullivan – Boherbue
============================
Minor team:
1 Cian O' Leary  – Douglas
2 Adam Walsh Murphy – Valley Rovers
3 Daniel Linehan – Castlemagner
4 Daniel Peet – Clonakilty
5 Darragh Cashman – Millstreet 
6 Neil Lordan – Ballinora
7 Joseph O' Shea – Urhan
8 Jack Lawton – Argideen Rangers
9 Kelan Scannell – Carbery Rangers
10 Hugh Murphy – Eire Og
11 Conor Corbett – Clyda Rovers (Captain) 
12 Eoghan Nash – Douglas
13 Michael O' Neill – Buttevant
14 Patrick Campbell – Nemo Rangers
15 Jack Cahalane – Castlehaven
16 Callum Dongan – Carrigaline
17 Sean Andrews – Shamrocks
18 Nathan Gough – Bishopstown
19 Tadhg O' Donoghue – Carrignavar
20 Luke Murphy – Cullen 
21 Shane Aherne – Douglas
22 Ryan O' Donovan – Barryroe
23 Keith O' Driscoll – Gabriel Rangers
24 Alan O' Hare –  Douglas