Sean Patrick Tallon, 26 years old, of Yonkers, NY died bravely on September 11, 2001 in the line of duty at the North Tower of the World Trade Center as a NYC Firefighter and a U.S. Marine. Sean was born on September 27, 1974 in the Bronx to Patrick Tallon of Clane, Co. Kildare and Eileen Tallon (nee Dennehy) of Tullig, Millstreet, Co. Cork, Ireland. Sean attended St. Brendan's and St. Barnabas grammer schools and Fordham Prep High School. After graduating from Iona College, he joined the U.S. Marine Reserve. He worked as an Emergency Medical Technician for the FDNY out of Jacobi Hospital at Battalion 20, Station 23. Sean later became a Fireman at Ladder #10 in Manhattan. He enjoyed cheering on the Mets, Rangers, Jets and Notre Dame football teams. He loved Irish music and played his favorite tunes on the button accordion. He was a sincere young man who could lighten a difficult situation with a simple humorous phrase. His strong, kind presence is very much missed by his mother, father, sister, Rosaleen and her husband, Robert DaRos. Sean will be dearly missed by his loving grandmother, Rose Tallon, in Ireland, aunts, uncles and cousins, both here in America and in Ireland and England. Sean will also be sadly missed by all of his friends. Visiting hours Thursday, 2-4 and 7-9 pm at the David J. Hodder & Son Funeral Home, 899 McLean Ave. (near Kimball Ave.), Yonkers, NY Funeral Mass will be celebrated on Friday at St. Barnabas R.C. Church 9:45 am, 409 East 241 Street, Bronx, NY. Burial will follow at St. Mary's Cemetery in Yonkers.
– See more at: http://www.legacy.com/obituaries/lohud/obituary.aspx?n=sean-patrick-tallon&pid=148867092
================================
AWAITING FRESH CHALLENGES
Sean Patrick Tallon, 26, was a reservist in the United States Marine Corps, a former emergency medical technician and a probationary firefighter with Ladder Company 10 just a few weeks away from the end of his training. He was tough, but he always wondered whether he measured up. "That's the way he was," said his older sister, Rosaleen DaRos. "He always thought everybody else was capable, but he was just as capable."
Take the button accordion that Mr. Tallon loved to play. He would bring out his instrument and play Irish favorites for relatives at family gatherings, with his sister on the piano accordion. But he rarely played for friends; some of them didn't even know he could play an instrument.
When he left for work from his home in Yonkers on Sept. 11, headed for the fire station that was among the first to respond to the trade center attack, he seemed in a buoyant mood. His probationary period was almost over and a new challenge lay ahead.
"He wanted to find Mrs. Right," Mrs. DaRos said. "That is what he said was his next mission. He said his probie year was almost finished and he wanted to start with the rest of his life. Everything was just all ready. He had just blossomed."
Profile published in THE NEW YORK TIMES on November 17, 2001.
==========================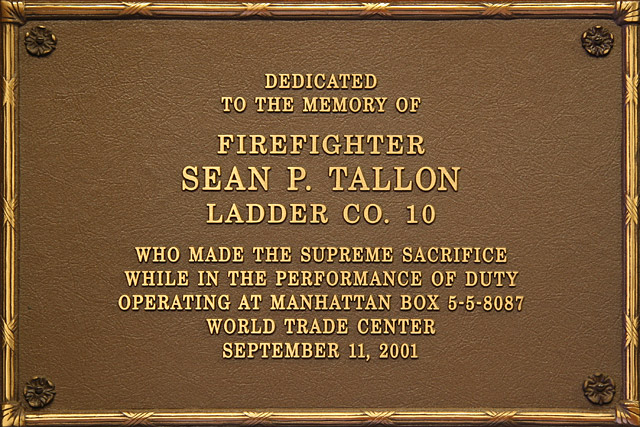 ==========
When aircraft crashed into the World Trade Center's twin towers, it was New York City's Bravest that did what they did best – head directly in to danger, in order to save lives. Firefighters, paramedics, and EMTs – side by side – as was the case so many times before.
Together with members of that city's Finest, they made their way to the heart of the tragedy. Grabbing their gear, the firefighters began rushing into the gigantic structures to assist with their safe evacuation, while the paramedics and EMT's began tending to the injured below.
It was while doing those jobs – in the kind of rescue that they had performed so well, so many times – that their lives were taken from us. (Taken from here)
Sean Patrick "Charger" Tallon was one of those such men. At 26, he had only a month or so left of being a "probie" (a probationary firefighter). Sean was one of the first responders, along with the other members of Ten House. Their station was right across the street from the World Trade Center. On the way up the stairs of Tower One, Sean helped a fellow firefighter that was having a heart attack, then he continued up with two more of his fellow firemen. They were trapped when Tower One collapsed.
Sean led an active and varied life. He was a Marine Corps Reservist. He also loved Irish music and playing the button accordion. He would practice for an hour or more on many evenings. The steady, easy flow of sweet hornpipes, tasty reels, and lively jigs would fill the house. [Find a Grave]